I'm finally back from the most amazing week in India! I can't wait to tell you all about it. That trip changed my life in so many ways, but I wasn't prepared the impact that the girls on the trip would have on me. Tristen and I opened up this trip a few months back and gave our followers the opportunity to apply to come with us. First of all, we were so stoked that anyone even applied let alone came on the trip. Second of all, I was pretty stoked that they were all nice, normal, cool girls and not serial killers or anything, you know? that's always nice.
I want to do a more in depth blog post about our trip, and specifically what we did while we were there, but I thought it would be fun to introduce you guys to the India squad. AKA MY 12 NEW BEST FRIENDS!! And YES you read that right. 12 eligible women traveling to India with a very single male lead, Tristen. If you kept up with my insta stories, you'll see that we definitely played into the bachelor parallels we were living ;) (WAY BETTER CONTENT THAN THIS TRASH SEASON) So think of this, as each contestants bio written from my perspective. And keep in mind, that I wrote this right after we all said goodbye. I had no idea how emotional I would be, and I totally cried all day long. (take a shot every time I say "and then I cried" in this blog post) I love them all so much and I hope you get to see that through these introductions.
In one week I've seriously fallen in love with this girl. I have a feeling that's how everyone is when they meet her though, and I blame it on her smile. She has such a killer smile/laugh combination that you question whether you want to be her, or WIFE HER It's that good. She and I got really close this week and I know without a doubt we'll be friends for years. She was the cool girl. So cool that I hardly felt worthy enough to be around her half the time, but I still followed her around like a puppy all week long in hopes of some of her coolness rubbing off on me. I could seriously write an essay in MLA format about all of the reasons I love Abi, and spend at least three paragraphs about how her sexy British boyfriend is the main reason, but I think my favorite thing about her is how she carries herself. She's not the loudest one in the group, she's not the center of attention, but she exudes confidence in such a beautiful way. She's so self assure, I could listen to her her talk about her ideas and plans for the future for hours. One day, we were at the schools discussing the barriers the they face and we were brainstorming ideas for solutions. It was so entertaining just listening to her talk and give her input. She's so well spoken and I look up to her on so many levels. She was definitely one of the hardest goodbyes. But like I said, theres not a doubt in my mind we'll be friends for years. Traveling the world together, yiking at national monuments and historic sights, making moves and making things happen. Oh yeah, did I mention my girl can throw that bOoTY IN A C I R C L E??? A strong independent queen who can pop lock and drop it? I SUPPORT. I love you Abi, and your determined little mind, and your movie star smile. YIKE ON EM BABY!!
MY TALL GLASS OF WATER. I feel like I need to spit out 100 facts about Sydney because that's so her. She's alllll over the place, eats more than a teenage boy going through puberty, talks a mile a minute, but I listen to her anyway. Because I LOVE. THIS. GIRL. She was helping me choose music for a video I was editing and ended up showing me the sickest stuff. I was in heaven. I automatically trust anyone with good music taste. It's a rule. About half way through I thought to myself… "this girl knows her memes…has a good taste in music….she must be a OG One Direction fangirl." And SURE. ENOUGH. I knew there was bound to be one of them on the trip, and of couuuurse it was Sydney. It makes perfect sense now. One Direction Stans really connect on a level closer than blood. We would sit and discuss the best eras of Zayn's hair, rewatch the old sugarscape interviews, and contemplate why Harry follows every model he's ever hand a conversation with but NOT HIS OWN BAND MEMBERS??? It was good bonding for us, and now, we're friends for life. (Another rule that I follow.) Sydney is the life of the party. When she wasn't around, the group felt empty. When she was on the other side of the TABLE I felt empty. She had the best stories and one liners, and made them even better with her teeny tiny hint of a southern accent. She's my southern belle, fangirlfriend and I can't wait to see where she goes in life.
Leah has the most calming presence that is so addicting. I would seriously hang around her all day because of her energy. She was the first girl I met, when we came down into the lobby on the first day and one of the first things she asked me was "Whats your Zodiac sign?" and that's how I knew right away we would be good friends. We would all sit in the hotel rooms and pick her brain for hours, listening to her lay down some serious wisdom. "LEAH TELL ME ABOUT MYSELF" was a common phrase heard throughout the week. She just observes everyone, and you can tell she feels everyones emotions too. I don't open up easily at ALL. I hardly ever let people know if I'm sad let alone what I'm sad about, but Leah, practically a complete stranger, got me to tell her things I haven't told ANYONE, things I hadn't even talked about with myself!! I would vent to her, and she would reassure me and make me feel less crazy, and the weird part of it all, was just that I could! I could totally trust her, and open up to her because not only was she listening without judgment, but with understanding. She validated everything I said. When you get in a big group of girls and conversation is flowing, it's easy to cut someone off the second their story is finished, to hurry and try and get yours in before the subject changes. But Leah, I noticed, would just sit and listen to everyones stories, and comment on them, Ask questions, and genuinely want to hear more. I loved that. Also, I discovered that she works for a multi-luxury brand boutique and can put some Balenciaga Triple S's on hold for me. So not only is she my new therapist, she's my new designer shoe plug. AKA THE GOAT. Love you long time Leah babe.
Terryn and I are kindred spirits. It was when she played "Boyz n The Hood" by N.W.A, and flawlessly rapped every single word, that I knew deep in my soul… this girl was next level. She's one of those people that comes along and you can't believe you spent so much of your life without them. EVERYONE loves Terryn. She had a thread going all week of the vines that best embodied everyone on the trip, and that is one of the sweetest, most sentimental acts of love I've ever received. Like, you took the time out of your day to let me know that What the F*%* is up Kyle reminds you of me?? An angel on earth?!?! She's our designated hype girl. Whenever anyone posed for a picture, she was all "YES QUEEN" "YOU'RE DOING AMAZING SWEETIE" and thats the kind of love and support ur fav could NEVER. It's been an internal debate, trying to figure out what Terryn's best quality is. Her ability to bring out her inner hoe at any given time, was a top contender. Her world class booty was another one. But I decided that her above all that, her best quality is how she connects with everyone. She is the best conversationalist. She was my favorite person to sit by at dinner, or walk the streets with. The conversation just flowed. She asks you questions that let you know she totally cares about you, and what you have to say, and that is a GIFT. It's a gift to be so confident in yourself, that you're able to make others feel good about themselves. I love that. And I love YOU Terryn!!
Olivia is 4 feet and 11 inches of puuuure sauce. We bonded over One Direction and our mutual obsession with Josh Ovalle. It was so intimidating coming into a big group of girls. I mean it was heaven for Tristen #TristenLuyendykeJr but for me, I felt like Cady Heron on the first day of school. Luckily, every single girl on this trip was pure gold but Olivia was an instant comfort for me. I think that first day, she reassured me, without really trying, that everyone was super normal and nice and dope and fun and it was going to be the best week ever. And I really needed that, those first couple of days. Her laugh is so contagious and I would hear it from the other room and sprint over, because I didn't want to miss out on whatever she was laughing about. But 90% of the time, her laugh was better than the joke. I love how thoughtful she is. I just got to the airport to go home, and she's the last person I said goodbye to. She ran up to me, out of breath and I said "What the heck?! Isn't your flight supposed to leave right now?" And she said "Yes I just didn't want to leave without saying thank you!" And you guessed it, I STARTED CRYING! She's not afraid to speak her mind though, and god be with anyone who crosses her. She doesn't seem intimidating, but I promise she's stronger than you, she's smarter than you, and she's from Boston. So your best bet is to walk way. She's also the only person I can think of who could out-vine me. Girl is FLUENT in her vine history knowledge. It scares me. It excites me. And we'll probably all end up working for her someday.
I love you Olivia, you tiny little fireball of love.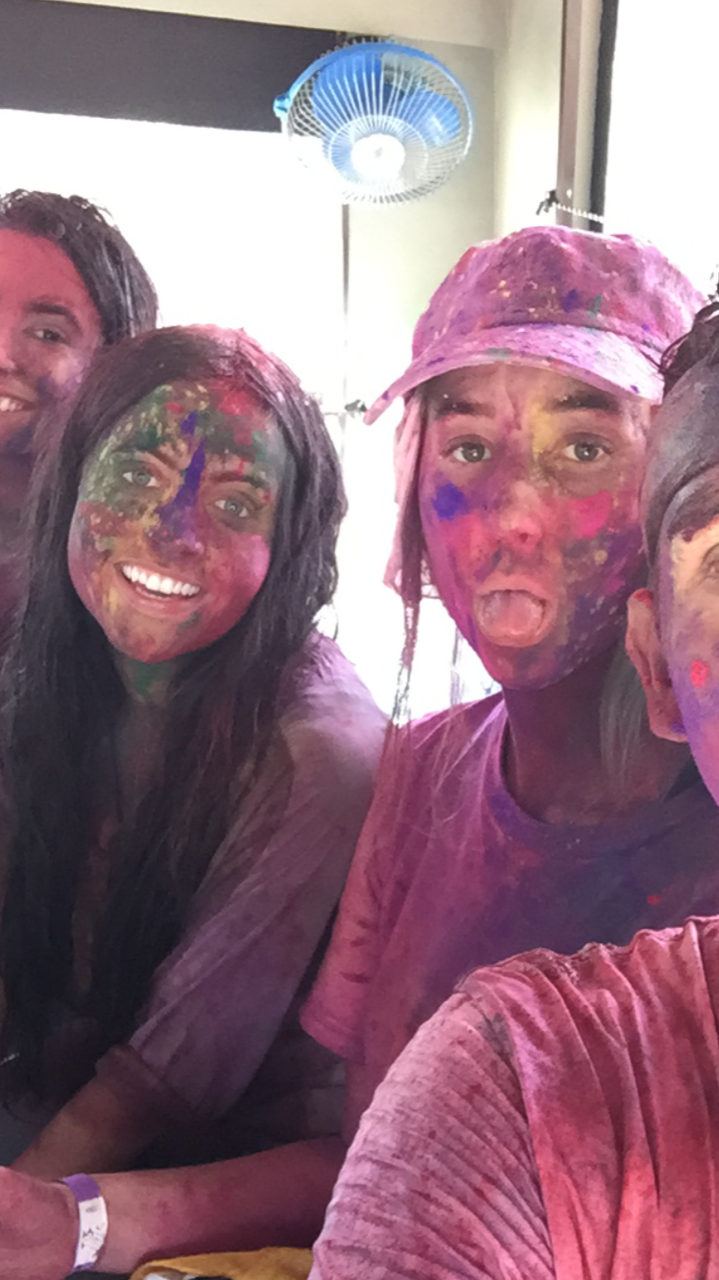 MY LITTLE CINNAMON ROLL TOO. PURE. FOR. THIS. WORLD!!! I connected with Sage super early on. We just get each other. She just gets everybody. You can't not love Sage. Initially, she comes across way too chill for you. So chill, it's almost icy. And it drove Tristen CRAZY. Haha! He had 11 girls who could talk his ear off, compliment his spoon rings all day long, and quote Tyga lyrics while feeding him grapes by the pool, but Sage wouldn't give him the time of day. ICONIC. She's the furthest thing from cold though, in fact, she is one of the warmest, most kind girls I've ever come across. And I think thats what any girl in our group would say about her if asked. She has the most tender little heart. Sage had an awful experience at the Holi festival and handled it with such grace and strength I could not believe it. A middle aged man asked her for a picture and while taking it, he groped her forcefully, refusing to let her go. She was so traumatized, and we actually ended up calling the cops and pressing charges on him. Throughout the whole ordeal, Sage just wanted to make sure it wasn't ruining anyone else's day. She was violated, and harassed, but all she was focused on was making sure he was gone so other girls were safe, and that everyone was still having fun. She's the most strikingly beautiful girl, but how cool/unfair is it that her heart is just as beautiful? PICK ONE PLEASE??? YOU CAN'T HAVE IT ALL???? On our last day, she just cried and cried and cried. Like so hard. I was all "yo, are you good??? Are you just deep in your bag or are you sad about something else?" Cause babygirl was on the verge of HYPERVENTILATION. But she just shook her head and said, "No, I'm just sad. These are the most amazing girls I've ever met and we're never going to be all together again." And then I started crying. And now I'm crying again. DAMN IT SAGE. I love you though. Thanks for making Tristen work for it ;)
I want to put Lexie in my pocket and save her for a rainy day. You hear about people all the time, who have a 'light' about them, and that is Lexie described perfectly. All week long I noticed people gravitating towards her. She's funny, she's adorable, and she is good to her very core. She turned 18 on the day she left for the trip, and she was telling me how this was "the best way to start the rest of her life." How amazing is that? She's still in high school, but she raised the money to come out here for a week and help people in India. She's so cool too. She's the senior class president, valedictorian, on varsity cheer, and got a thirty freaking three on her ACT!! Last night, at dinner, she started crying, when she found out that she got accepted into her dream college. And I started crying too because her dream college is in my hometown and now I can set her up with my little brother. Dreams come true :") I will say though, I had my doubts about Lexie. On the first day, I asked her some simple get to know you questions, "How old are you" "Where are you from?" "Do you think David Schwimmer accurately portrayed Robert Kardashian on 'The People vs OJ?" and of course, "Who is your favorite One Direction member?" And when she said Zayn, I asked "What about Harry?" To which she replied "Oh I don't like Harry." And my gasp was heard round the world. I didn't know if she was someone I could be close with. Could I put our differences aside and form a long lasting friendship?? But I'm here to tell you the answer is yes. She's just too cute, and like.. her dimples… idk guys, I'm a Lexie Stan for life.
What comes to mind when I think of Syd, is the simple yet poetic phrase, "such a vibe." It's her catchphrase that so happens to describe her perfectly. She showed up to India with bright white bleached hair, and after the Holi festival, and several showers, her hair was permanently dark green. That would be enough to send me into cardiac arrest, but she just laughed it off completely, and owned the hell out of it. We were mocking the bachelor on the trip a couple times and trying to figure out everyones characters and she said "I just want to be the weird one that makes everyone laugh." And that says it all. We were constantly in tears laughing about something she said. One time she fell asleep on the bus, and about every single girl asked "Where's Syd?" throughout the drive because her presence is always missed when she's gone. We all craved her one liners, and commentary. When I think of a good example of a feminist, I think of Syd. And not in any specific overwhelming way except for the way that she treats other girls. As the "leader" so to speak of this trip, I was observing everyone and I noticed everyone's quirks and habits. What I noticed about Syd that makes me emotional to even write about, was just how she was constantly building everyone else up. Not for show, not for praise, not for any ulterior motives, but just because thats who she is. And I could see firsthand the way her compliments and kind words effected everyone. It was such a positive experience and environment and I have to thank Syd for contributing to that. I love you my tiny green haired sunshine popsicle princess, thank you for being you.
As an internet mom, I realize you're not supposed to pick favorite children. And I'm a good internet mom so of course, I would neeeeeevvvver do that. But lets just say, Savanna would be the one to get extra Christmas presents every year. She has the sweetest, sunniest disposition that is so refreshing. It's only been 24 hours apart and I'm already having withdrawals. One of the best parts about getting 15 girls from all different parts of the United States, was picking up on each others lingo and vocabulary. She coined the most iconic phrase, "In my bag' on the very first night. It means "in your feelings" and she educated us that you can be in any kind of bag, depending on your mood. "Like, I'm feeling extra boujee right now so I'm in my Gucci bag for sure." She explained. But on a different day, after the holi fest she was "in her nike duffle" it was seriously hilarious to hear what she'd come up with and now we all say it. I was deeeefinitely in my hot topic studded leather emo bag with Savana several times. We related to each other on so many levels due to things that happened in our past. We got along so well and could just vent to each other and be all like "NO WAY. SAME. NO LITERALLY SAME. LIKE WE ARE ACTUALLY THE SAME PERSON." It was so great. For whatever reason, whenever Sav would cry, I would cry, so there were a lot of tears from both of us. After visiting one of the slums early on, it was a really heavy and eye opening experience. We got off the bus to go inside, and we were all really quiet, taking it all in. She just looked at me and burst into tears, and I hugged her and cried into her shoulder for what felt like hours.She said "I haven't cried this hard since the election" and that was the best thing I'd heard all week. I love her SO much. It's like when you find a really good song and you're not sure if you want to shout it from the rooftops and show everyone you meet so they can all experience the magic, or if you just want to keep it to yourself and enjoy all the magic selfishly. Thats how I am with Say, but deep down I hope you all get to know her someday, and you get to see the truly magical person she is. I'M IN MY BAG NOW SO I GOTTA STOP. LOVE YOU SAV. YOU ALWAYS GOT ME CRYING IN THE CLUB.
Alex is one of the most interesting people I have ever met. She was another one of the girls who really helped me the first day, feel super comfortable and not so overwhelmed. She's really outgoing, which like I've said before, is hard to be in an environment like that. But she was always herself, and quickly brought the group together in a way I don't think I could have done myself. She's someone you talk to and you feel like you've known for years. Anyone would say that about Alex. You talk to her once, and it feels like you're catching up with an old friend. If there was anyone besides Kanye West that I would want someone to make a documentary based on their life, it would be Alex. This girl has had the coolest life. She would tell stories and we would just sit there, staring up at her with adoring eyes, waiting on every word. I love to ask people questions, really weird questions, to get people comfortable (or extremely uncomfortable, but it usually works.) and she always entertains me. She never gets awkward or uncomfortable and I love that about her. So many times on the trip there would be little moments that no one else caught and we'd just look at each other and laugh. I could always count on her to appreciate the special moments we experienced. She helped me gain a new perspective on so many things and she's someone who's opinion I value so highly. And if anything else, she's basically alllll my goals. GUYS! She's been all over the world and back, all by herself, and is going to graduate college at the age of 21, having studied in three different countries. LIKE WHAT?! Alex is my hero, and she's gonna do big things. I can't wait for my kids to come home from school and tell me they learned about her in class someday. LOVE YOU ALEX. THANKS FOR BEING SO GOOD AT TELLING STORIES AND ALSO WALL TWERKING THAT WAS REALLY UNEXPECTED BUT SUPER COOL.
Chayse was the only girl I had met previous to the trip. She actually came to mine and tristens first workshop last year!! I have to tell you guys about Chayse because she is the definition of girl boss. When we met her last year, she had flown into Utah from Indiana to take our class. We couldn't believe someone would come that far to hear from us, but just when we thought she couldn't get cooler, she had to leave early. Why?? Because she had to catch a flight to Italy where she'd be exploring the country for the next month BY HERSELF! I've followed her on instagram ever since then, and I've just been in complete awe of the life she's made. She doesn't wait for permission, or timing to be right, or friends to go with, she just does it. Alone if she has to, with online school work if she has to, with a bed on the ground of a hostel if she has to. And she's absolutely KILLING IT. Another reason Chayse and I get along so well is because is we have the EXACT same style. It's hilarious. We'd have the same shirts from companies we both thought no one else knew existed, and so many times would come down to the lobby in similar outfits it was so amazing. We just get each other. One day on the trip, she pulled up a tweet she posted almost exactly a year ago that said "today I made it a goal to travel with @itsindysev & I hope someday to tweet a screenshot of this next to a pic of us somewhere amazing" and I straight up started crying. Here we are a year later kicking it halfway across the world in freaking INDIA and I couldn't be prouder of either of us. I love you Chayse and I can't wait to see where the wind takes you next.
Last but not least... LAYNE! If I could go back in time I would change my answer to "Layne Fable" when asked what I wanted to be when I grew up. Either that, or I would have just flown to New York, showed up at her doorstep and said, "Hi you don't know me, but in a couple years we're gonna go to India together and become best friends, so let's just get a head start and be best friends now?!?!" Because I think of how long I lived without meeting Layne and it hurts my soul. She is everything. I remember one night talking with Sage and she said, "Do you ever just stare at Layne?? And wonder how one person can be so beautiful?" And I said "RETWEET." Layne is gorgeous. In her looks, her laugh, her voice (Kinda raspy??? Kinda hot??? Weirdly soothing???) and just in the way she is. She is so happy all of the time, and I would seriously try and sit by her at dinner every night just to bask in her glory. Her positive outlook on seriously every situation is so inspiring to me. Without a doubt my favorite Layne memory was the day she handed me her business card. But it wasn't her business, it was just her. A photo of her on the front, looking like a smokeshow, with her instagram handle and youtube link typed on the back. THAT IS THE LEVEL OF CONFIDENCE WE SHOULD ALL STRIVE FOR!!! Thank you for inspiring me to be happier, go with the flow more, and to print out my best selfies and hand them out to strangers in the streets. You're one of the good ones, Layne.
That was so much longer than I ever intended but if nothing else, this post is just for you 12 amazing beautiful girls who changed my life this last week. I want you to know individually how much I love you and what I thought of you. And more than anything just THANK YOU. I am so inspired by you and your stories and all you sacrificed to come on this trip. I love you fools, and I expect big things from every single one of you :)
IM IN MY BAG GTG
IND